---
MOONACHIE POLICE PATROL SERVICES
---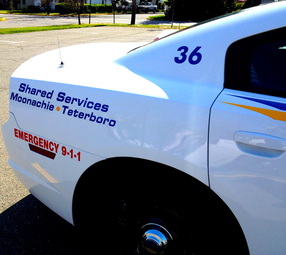 The Moonachie Police Department proudly serves Moonachie and Teterboro, New Jersey. All Moonachie Police Department members, sworn officers and civilian employees, are highly trained and dedicated professionals. Continual in service training keeps our officers up to date with changing technology, law enforcement tactics, and community policing development. We have officer's who are members of the
Bergen County Rapid Deployment Force (R.D.F.)
,
Bergen County Prosecutor's Office Fatal Accident Investigation Unit
, on call
Drug Recognition Experts (D.R.E.) Team
and
New Jersey Police Traffic Officer's Association
. Moonachie Police officers participate in various specialized task forces throughout Bergen County (i.e drug interdiction task forces, prostitution task forces, etc.) Our officer's expertise in these areas, re.gular in-service training, and experience helps keep the Borough of Moonachie and surrounding communities safe.
Random patrol with marked police units, 24 hours a day, seven days week helps the Police Department accomplish several tasks. Traffic enforcement and education helps keep traffic moving safely. Patrol units are able to quickly identify situations that may become hazardous (ie, ice conditions, water main breaks, debris in the roadway, traffic and street light outages) and notify the proper authority to correct the situation. Without patrol these situations would not be corrected in a safe and timely manner.
High visibility in our residential and commercial zones help prevent crime and identify situations that may actually attract certain criminal activity. Once identified, actions through our crime prevention bureau help correct such situations. Sometimes crimes in progress are stopped as they occur. Of course, help from our residents and business owners is critical - first by taking necessary precautions to avoid becoming a victim of crime, and second by reporting all suspicious activity immediately.
One of the Police Department's most frequent calls for patrol service are medical assistance requests. Moonachie Police Officer's are trained first responders and are equipped with first aid supplies, oxygen tanks and automated external defibrillators. Once on scene, officers are able to provide immediate assistance to victims and notify dispatch to alert other necessary resources (i.e. FIRE DEPT., EMS, PARAMEDICS). The Police Department's role in medical assistance calls is critical and one of our most rewarding.
---